Writing Domination in the Fitness Industry
A step-by-step guide to help you
Get

started
Get

recognized
Get

paid!
Three of the fitness industry's top writers and editors – Lou Schuler, Sean Hyson, and John Romaniello – show you how to improve your skills, build an audience, get the attention of magazine editors, create a revenue-generating business, and even achieve the ultimate recognition of your expertise: a published book
From the desk of Lou Schuler

You may not know me, but I think I know you.
I know you look at popular blogs and sites like T-nation and magazines like Men's Health, Men's Fitness, Shape and Oxygen. You see the same names over and over again. You see posts and articles written by your fellow fitness and nutrition pros and you ask yourself:
"What does that guy know that I don't?"
"How did he build the audience he has?"
"How did he get his name into all those places – the places where I want to see my name?"
Here's something else I know about you: I know you've probably tried to do exactly what those guys did.
You started a blog and a Facebook fan page.
You wrote articles and submitted them to magazines.
Maybe you even wrote a book, and sent it out to some agents and publishers.
And for all that, you're no closer to your goal of being published, of getting attention for your work, of being the guy or gal editors think of when they need exercise or diet tips.
You're still on the outside, wondering what in the world you need to do to get in.
Is there a secret handshake? Do you have to wait to be invited? Do you have to bribe somebody, and if so, can you pay in monthly installments?
I know you're asking these questions because I've heard them from more young fitness and nutrition pros than I can remember over the years.
I also know the answers. How?
Because, in many cases, I was right there when some of today's best-known fitness writers started out. As the fitness director at Men's Health magazine, I helped guys like Alwyn Cosgrove and Craig Ballantyne when they were unknown outside their small circles of friends and clients.
Because I've mentored two entry-level writers. Adam Campbell is now one of the top editors at Men's Health and menshealth.com. He's won a National Magazine Award and written a New York Times bestselling book. Nate Green is a published author, a writer for Precision Nutrition (following a successful stint at T-nation), and a popular blogger.
And because, over the years, I've worked with more brand-name fitness and nutrition experts – assigning and editing articles; making introductions to editors and agents; offering career advice; and in some special circumstances coauthoring or ghost-writing books for major publishers – than I could ever remember, much less count.
"… Go from a no-name grad student to a New York Times bestselling author"
"Lou Schuler helped me go from a no-name grad student to a New York Times bestselling author. In fact, more than anyone else, he's the guy who taught me how to write. I simply wouldn't be where I am today without Lou"
~ Adam Campbell, author of The Men's Health Big Book of Exercises
"I've gone on to write hundreds of articles for major online and print magazines, start two successful blogs, and write two books"
"When I was a 20-year-old community college dropout, I sent an email to Lou Schuler – a guy I'd never met – and told him I wanted his job. My friends and family thought it was weird and were convinced I'd never get a response. I was more hopeful.
"Two hours later, Lou wrote back with some advice on how I could get started as a writer in the fitness industry. I didn't know it then, but that one email would provide me with a great mentor and be the catalyst for my writing career.
"Since that day seven years ago, I've gone on to write hundreds of articles for major online and print magazines, start two successful blogs, and write two books, one of which was sold to Avery Publishing, an imprint of Penguin.
"Lou helped me every step of the way as an editor, mentor, and friend.
"If you want to start your own blog, write for major magazines, or fulfill your dream of one day writing and selling a mass-market book, you should listen to Lou and follow the steps he gives you. The man knows what he's talking about."
~ Nate Green,
Program Director, Scrawny To Brawny
"He's helped me improve my writing and communication skills in both large and small ways"
"As I said in the acknowledgments for one of our New Rules of Lifting books, Lou Schuler met a young Scottish immigrant working as a personal trainer in New York and saw something no one else saw. He's helped me improve my writing and communication skills in both large and small ways. I learn something new from him each time we work together."
~ Alwyn Cosgrove, owner of Results Fitness in Newhall, California, and coauthor of the New Rules of Lifting series
"Lou Schuler has been an essential part of my success in the fitness business"
"Lou Schuler has been an essential part of my success in the fitness business. You must learn how to convey your message with clear, concise language in order to reach a large market to build your brand and business. Lou knows how to do this better than anyone in this industry. I'm always amazed by his ability to teach fitness professionals how to deliver a more engaging and comprehensible message."
~ Chad Waterbury, author of Huge in a Hurry and coauthor of the upcoming Eat, Move, Live, with Wolfgang Puck
Most of them were no more prominent than you when I started working with them.
I can't and don't take credit for the success of these smart, talented, ambitious, and hard-working individuals.
In some cases a small bit of offhand advice led to phenomenal results, like the time I suggested to Alwyn Cosgrove, my coauthor on the New Rules of Lifting books, that he start a blog. (I think within 15 minutes of his first post he had a bigger audience than me.)
That kind of advice, as I've joked in the past, is free, "and worth every penny."
But what about the advice that's not free? What if I distilled 20 years' worth of hard-earned knowledge as a fitness writer, editor, author, and mentor into one product? What if I could offer a systematic way to help fitness and nutrition pros …
Write better
Write faster
Reach a bigger audience
Get the attention of editors
Get paid to contribute to magazines and websites
Build credibility for your business
And maybe, just maybe, become a brand-name expert with steady income from articles and books?
Obviously, I can't guarantee any of those outcomes. And to be honest, the possibility that someone like you would invest your hard-earned money in my advice and not use it successfully has kept me from pulling it together into a single product.
Until now.
What changed? Two things.
For starters, some of the people I helped over the years encouraged me.
But second, and far more important, I teamed up with two guys who add more value to this product than I could deliver on my own.

Sean Hyson
Sean Hyson is the Group Training Director for Men's Fitness and Muscle&Fitness magazines. His work has also appeared in UFC magazine, Muscle&Fitness Hers, Outside's Go, and T-muscle.com. He has been a fitness editor in New York City for the past nine years. Sean blogs at seanhyson.com

John Romaniello
In just three years, Roman's blog went from 2 readers to over 200,000.
Roman has leveraged his blog to get published everywhere, from AskMen and Women's Health to Fast Company and the Huffington Post
Because of the opportunities his blog has presented, Roman has been able to network with some incredibly high level people. This has led to training Gary Vaynerchuk, partying with Tucker Max, and even being featured in Tim Ferriss' books.
Finally, Roman has leveraged his blog to get a tremendous book deal. Valued at 1.2 Million dollars, this is the biggest deal in the history of fitness publishing, beating out those given to people like Jillian Michaels and Tony Horton. In short, Roman is the bees knees when it comes to blogging.
Their knowledge, and mine, is now available to you in
How to Get Published:
Writing Domination in the Fitness Industry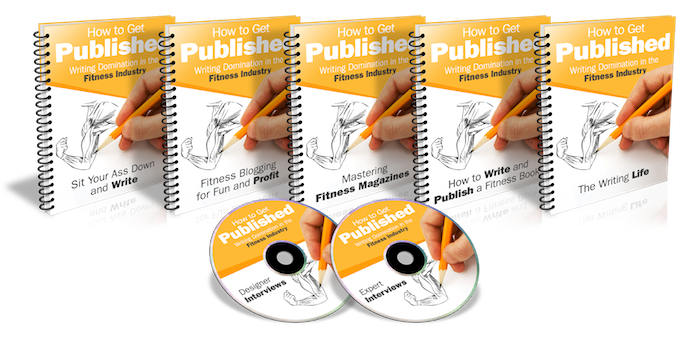 Each of us could give you a solid guide to writing and publishing. But the three of us combined offer you something you can't get from any single author:
A definitive guide to writing for yourself, for your clients, for your fellow fitness and nutrition pros, and, potentially, for the millions of people who need your help but don't yet know how much great information you can provide.
How to Get Published: Writing Domination in the Fitness Industry is actually five ebooks in one product: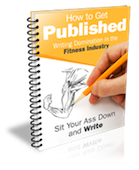 Part 1: Sit Your Ass Down and Write helps you understand the basics of writing. I explain that all good writing is a conversation you have with your readers, while fitness writing is a type of conversation in which you offer the promise of a specific biological benefit in exchange for the reader's time and attention.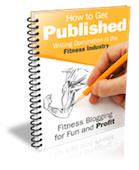 Part 2: Fitness Blogging for Fun and Profit shows you Roman's step-by-step system, from choosing a name for your blog (and, by extension, your online identity), to attracting an audience, building an email list, and eventually creating steady, dependable, and in some cases substantial income from your efforts.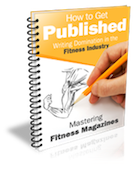 Part 3: How to Get Published in Magazines lifts the curtain on a business that seems mysterious from the outside. How do you make contact with an editor? How do you know what he's looking for? How do you craft a pitch that stands out from the others? And if you get the assignment, how do you actually put your article together? Sean answers these questions, along with all the ones you would never think to ask.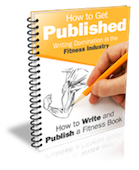 Part 4: How to Write a Book takes you through the process that begins with an unformed idea and ends, in the best-case scenario, with a published book that not only satisfies your ambition but also finds an audience and lifts you into a new tax bracket. I explain what readers are looking for, what editors want to see from a first-time author, how conventional publishing works, and how to decide if you should self-publish your book.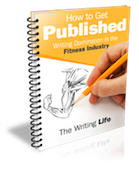 Part 5: The Writing Life answers more questions a fitness or nutrition professional would never think to ask about your new part-time career in publishing.
That's a lot. But it's not all. In addition, you get five bonus interviews Sean conducted with…
Jason Ferruggia, who explains how to build an audience by blogging in a voice that's true to yourself
Craig Ballantyne, who describes how he built his huge and lucrative email list, how he communicates with his readers via blog posts and newsletters, and how he creates and launches so many successful products and services
Nate Green, who walks Sean through his writing process, explaining how he budgets his time and the tricks he uses to maximize his productivity
Jason Lengstorf, the go-to web designer for fitness pros (he created sites for Roman, Sean, Nate, me, and many others), reveals how he makes websites easy to use while also giving them distinct looks that reflect the owner's personal brand
Roman, who offers perhaps the most valuable advice for any current or aspiring writer: how to leverage online success and popularity into a lucrative book deal
How much is all this worth?
Honest answer: I have no idea. All I can tell you is how much we decided to charge.
For a limited time, we're selling How to Get Published: Writing Domination in the Fitness Industry – 5 Ebooks and 5 Bonus Audio Interviews – for only $147 $97.
To put that in perspective:
If Sean's advice helps you sell one article to one fitness magazine or website, you've paid for How to Get Published: Writing Domination in the Fitness Industry at least three times over.
If Roman's advice helps you build a loyal group of readers and fans who buy your products and support your affiliates, you've paid for How to Get Published: Writing Domination in the Fitness Industry a hundred times over, if not a thousand.
And if my advice helps you sell a book … well, let's not get ahead of ourselves.
How much our product is worth depends on how you use it. If you're an entry-level writer, just getting started with your first personal blog, you'll certainly find solid advice on how to improve your communication skills. But the most valuable tips are probably those that tell you what not to do.
Two examples:
Don't go out of your way to antagonize, call out, or pick arguments with better-known fitness pros. It may entertain you and your friends. It may even gain you a small following, the same way a three-car pileup always draws a crowd. But you'll never know the true price of making enemies. There are communication channels you can't see from the outside, and once your reputation as a trash-talker is established, you may never get opportunities that would otherwise come your way.

Don't spend a lot of money hiring an expensive, well-known web designer. (Sorry Jason!) Use a standard blog template until you've built a substantial following and are getting ready to launch a product. That's when you spend your money on a custom-designed site. (Jason: you're welcome!)
If, on the other hand, you're someone who's already built an audience and is ready to move up to writing for magazines and well-known websites, the value of How to Get Published: Writing Domination in the Fitness Industry is more immediate and tangible. The first article you sell will more than justify the cost.
To help you get there, we show you …
How to figure out what editors are looking for (hint: ignore the longest articles, and focus on the short ones near the front of the magazine; those are the hardest for editors to generate, and the ones most likely to come from new contributors)
How to get an editor's attention with your query (an editor probably won't even open an email that promises "secrets to six-pack abs")
How to write your assigned article so it looks like you've done it before, even if you haven't (you'd be surprised by how many first-time writers forget to include their names!)
How to "vajazzle" an evergreen idea to make it look fresh, original, and exciting
How to progress from an ordinary contributor to become an editor's go-to training or nutrition expert
But suppose you've already done all that. You have a website with a growing audience, and you contribute to a variety of magazines, both online and off. You're actually in demand, and have so much work that it's a struggle to balance training your clients and meeting your editorial obligations.
What you really want is to write a book. Or I should say you want to get paid to write a book. You've been around long enough to know that anyone can throw some chapters together, sell it online, and declare him- or herself a "bestselling author." (If he sells two copies in Latvia, he becomes an "international bestselling author.") By this point you've probably put out an ebook or two, and you know how easy it is. (With an estimated 300,000 self-published books appearing each year, how hard could it be?)
I'll be brutally honest:
I can tell you how to know if your idea is worth developing into a book.
I can tell you the four questions you must ask yourself (and answer!) before you begin.
I can show you, step-by-step, how I write book proposals that sell, and that provide my family with a decent middle-class income.
I can tell you how to take your proposal to agents and editors.
What I can't tell you is how much money you'll make off this book, or if you'll make any at all. That's how competitive and unpredictable the publishing business can be. No matter how many books I publish, or how much success I have, I never know from one project to the next exactly how things are going to shake out.
My advice might help you land a six-figure advance. (And what the hell, the bonus interview with Roman might help you hit seven figures.) It might convince you to stick with producing and marketing your own products. Or anything in between. All I can promise is that I'll show you exactly how it's done, and nobody on earth can predict what happens after that.
(This is an online, downloadable product offer. Nothing physical will be shipped.Once your payment is approved,
you will have instant access to How to Get Published: Writing Domination in the Fitness Industry, complete with
downloadable PDF ebooks and MP3s.)
So if I can't guarantee success, what can I guarantee?
Nothing.
Sorry, I'm 55 years old, and if there's one thing I've learned, it's that there are no guarantees.
I started off saying you don't know me, but I think I know you. I know you're ambitious. I know you want more from your career – more clients, more money, more recognition. Some days you want to fast-forward your life 10 years to see the results of all your hard work.
I know, because that's what I was like when I was your age. It doesn't matter how old you are. I was like that at 25, 35, 45. I'm like that now. I've been writing since I was a teenager, and I'm still waiting for the day when I decide I'm as successful as I want to be.
I've had some knocks along the way. I've failed at more things than most people have attempted. In fact, I almost failed at fitness writing. True story.
In the fall of 1991, when I was a graduate student at USC, I was about as broke as a middle-class adult ever gets. My last paying gig was a freelance article on methylene chloride paint strippers for a magazine called Painting and Wallcovering Contractor. The paycheck bought me some groceries, while I paid my rent with a credit card.
That's when I answered a blind ad in the Los Angeles Times for an editor at a fitness magazine. The magazine turned out to be Men's Fitness, and although I didn't get that job, I hit it off with the editors, and got a part-time copyediting job at Muscle & Fitness along with some freelance work at MF.
I screwed the pooch on one freelance assignment. It was about using anti-inflammatory medicine – aspirin and ibuprofen – as a prophylactic, to prevent joint pain. It struck me as a ridiculous thing to do. But I did the best I could, same as I had with the story about paint strippers. This time, unfortunately, it wasn't good enough. Another writer had to step in and finish it for me.
I was lucky my fitness-writing career didn't end right there. I got the next full-time job that opened at MF, and six years later, in 1998, I moved across the country to work at Men's Health.
Paradise found? Dreams fulfilled?
Not even close.
I barely survived the first year at MH. Every article I wrote or edited was ripped to shreds. Everybody told me what I was doing wrong, but nobody explained how to do it right. I was 41 years old. I had just moved my family (including my pregnant wife and two-year-old son) 3,000 miles to take this job. And almost every day I came home from work fearing that I was about to lose everything.
The turning point came near the end of my first year at MH. The magazine brought in Mark Bricklin, a legendary editor at Rodale – the parent company of MH, Prevention, and Runner's World – to explain to the staff what we do, and how we do it. (Apparently I wasn't the only one struggling with my job.)
I had been a fitness writer and editor for seven years, and this was the first time anyone had told me that the goal of service journalism is to promise readers a specific biological benefit, and then show them how to achieve it.
Maybe others were smart enough to figure it out on their own. But I wasn't.
Remember, I wasn't just some meathead they recruited from the nearest squat rack. I have a bachelor's degree in journalism, and studied creative writing in grad school. I've considered myself a writer for almost 40 years. But despite all that time, money, and ego invested in the outcome, I couldn't figure out the basic rules of my own profession.
So how in the world is a personal trainer, nutritionist, strength coach, or any other fitness professional supposed to grasp what I needed to have explained to me?
I wanted, in other words, to make sure that every single fitness and nutrition pro who has a message to communicate can learn to communicate it as simply, clearly, and powerfully as possible.
Doesn't matter if it's with colleagues, clients, friends, or the unknown masses of people who need the advice you have but don't yet know who you are, or what you have to offer. If you have something worth saying, How to Get Published: Writing Domination in the Fitness Industry will help say it well.
Is it the only way to improve your writing skill? Absolutely not. If you have the time to research and experiment, and don't mind falling on your face a few times, you can learn it on your own. Lots of people have.
But most people don't.
Here's how I look at it:
How many people become decent lifters without any hands-on instruction? Quite a few, right? They watch others squat, deadlift, and bench press. They read magazines like Sean's, read books like mine, watch instructional videos by coaches like Roman. Over time, despite a few inevitable setbacks, they develop good form and respectable strength.
And if that's all they want, fine.
But how many competitive powerlifters, or Strongmen, or athletes in any sport make it to an elite level without any professional coaching? That list is a lot shorter.
So ask yourself:
Do you aspire to greatness, or even goodness? Do you want to stand out from all the other fitness and nutrition pros who have blogs, or who write the occasional magazine article, or who self-publish books and other products?
Bigger question:
Would your career improve if you …
Put more information, and better information, on your blog?
Got more attention for each post – more readers, more "likes," more shares, more links from other sites?
Connected with even more readers through online and print magazines?
Developed a reputation as a go-to expert for a popular site or publication?
Built an audience that not only supports your work, but actively invests in your products and services?
Put yourself in position to write a book for a mainstream publisher?
How to Get Published: Writing Domination in the Fitness Industry can't guarantee any of those outcomes. But the people we've helped over the years have achieved all that, and more.
But let's look at it a different way:
Until now, fitness and nutrition pros who wanted my advice – or Sean's, or Roman's – had to go out of their way to ask for it. And even then they had to ask a specific question that we might have time to answer.
Now, for the first time, everything we know is available in one place, for one price.
That's great for you … but also great for every other fitness and nutrition pro who shares your goals.
If every ambitious trainer or nutritionist you know, and thousands you don't know, has How to Get Published: Writing Domination in the Fitness Industry, can you afford to not have it?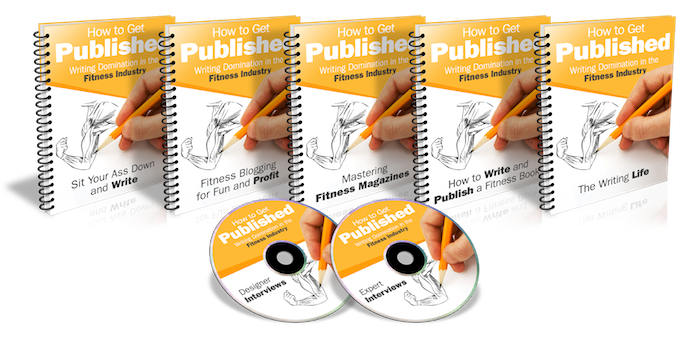 (This is an online, downloadable product offer. Nothing physical will be shipped.Once your payment is approved,
you will have instant access to How to Get Published: Writing Domination in the Fitness Industry, complete with
downloadable PDF ebooks and MP3s.)
Dedicated to Your Writing Success,


Lou Schuler
3-time Bestselling Author